In the second week of auditions for "So You Think you Can Dance," there were definitely some major talents worth following through to Las Vegas. But Phoenix, Arizona, also provided more than its share of unique (read: strange) characters.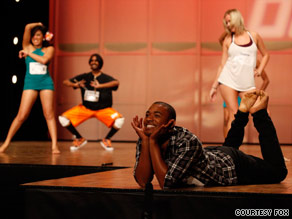 First were Demetrio "Biggie" Brogas and Brandon "Shorty" Smallwood. This duo's enthusiasm (and 19-hour drive to get to Phoenix) was definitely worth some points, but let's just say that technique was not their strong point. "Biggie" didn't last long in choreography, sadly, and soon afterward the judges thanked "Shorty" for coming out as well.
Jonathan Noronha didn't make it quite that far, but his routine involving a spelling of the word "disco" (with judge Mary Murphy's head as the "o") came right out of season five alum Tony Bellissimo's book... and I wasn't a fan of it then either.
By the time the judges got to the second day of auditions, the judges had seen one too many bizarre auditions. When Kelsey White answered executive producer Nigel Lythgoe's question, "Have you ever been abducted by aliens?" with "Once," he had had enough and walked backstage, leaving Mary and judge/choreographer Mia Michaels alone.
If not for a certain "B-boy" to be named later, the entire episode would have belonged to Jarvis Johnson, whom host Cat Deeley described as a "ball of energy." Unfortunately, Jarvis suffered an asthma attack during choreography, and Cat, ever the concerned host, tried tending to him when the paramedics arrived. Thankfully Jarvis went home none the worse for wear, and something tells me we haven't seen the last of him.
Yet Phoenix saved the best for last. "B-boy" Jonathan "Legacy" Perez was absolutely phenomenal. The way he walked on the floor wit his hands alone... for what had to be 10 or 15 seconds... wow. From what we've seen so far, he's at least got the potential of season three's trio of Dominic, Hok and Sara.
Now it's your turn. Did "Legacy" impress you as well? Who else would you like to see in the top 20? And would you like to see Jarvis audition again next year, or is once more than enough?