Tyra Banks is feeling her power. The former supermodel has been up front about her desire to become a business leader and role model. She's got her talk show during the day, "America's Next Top Model" in prime time, an online magazine and a desire to spread the word whenever possible.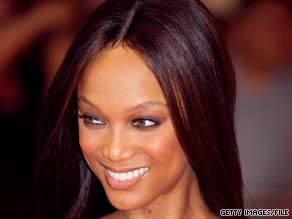 On Monday, she kicked off Fortune's "Most Powerful Women Summit" in Aviara, California, co-hosting the first evening of a conference that honored women business leaders from all over the world. (Fortune, like CNN, is a unit of Time Warner.) In a speech, she talked about putting her brain before her much remarked-about body:
"I was in a spa in New York City and a woman was with her 4-year-old daughter. She said, 'Sweetie, that's Tyra Banks. She used to be a supermodel, and she learned to be smart.'  The woman failed to realize that I had become a supermodel because I played a smart game.

I had a strategy and a clear plan to make it to the top. Just like you mentees here tonight. I didn't learn to be smart - I already was, just like the 12 of you here tonight."
Of course, Banks doesn't ignore what helped get her the TV shows - looks - though with a twist. Last week she showed off her real hair on "Tyra." And on "America's Next Top Model," the season is focusing on women 5-foot-7 or shorter - much shorter than many models nowadays.
What do you think of Tyra Banks? Is she "smart" - or are brains so much window dressing?