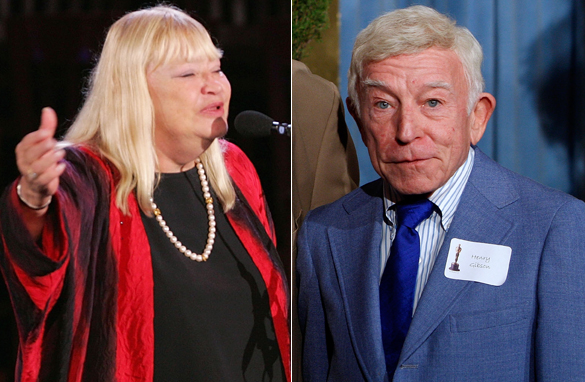 I don't want to become known as the celebrity death writer around here - the reaction to the title alone of my "Summer of Death" blog entry two weeks ago drew enough flak to turn anyone off the subject - but today's passings of two well-known figures from the '60s gave me pause ... and not just because I enjoyed their work.
I first saw the wonderfully gifted character actor Henry Gibson as the head Nazi in "The Blues Brothers," grumbling to his aide to get Jake and Elwood's license plate after the boys had forced his marchers off a bridge into the water.  But my parents, and millions of others, first saw and enjoyed him on "Rowan & Martin's Laugh-In," as he spouted offbeat poetry amid all of the groovy non sequiturs.
Likewise, my folks were listening to singer and activist Mary Travers of Peter, Paul & Mary before I was even born, and while they didn't try to make me love folk music as I grew up, it was always there if I was interested.  They also made sure my young daughter didn't miss out on the trio's magical music, getting her hooked on their kid-friendly "Peter, Paul & Mommy" CD early.
So while I'll miss both performers for the delight they brought me, I know the pangs I feel at their passing, at ages 73 and 72, respectively, are largely because I connect them with my parents.  I'm blessed to have my folks still living, still together, and close by, and I don't need two of their contemporaries passing away for me to appreciate them.  But the news did make me pick up the phone and call them - a silver lining to a doubly sad day, and one of which I'm sure both Gibson and Travers would approve.