Editor's Note: This post contains spoilers for the Sunday, Sept. 13 episode of HBO's "True Blood."
And just like that, it was over.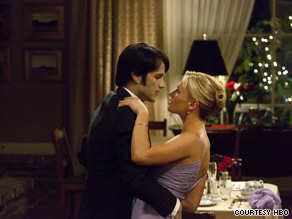 Another season in Bon Temps has come and gone – with, thankfully, at least one more season on the way. It started with a dead body in the parking lot of Merlotte's and ended with … well … a dead body in the parking lot of Merlotte's.
In between, we met the hilarious true-believers of the Fellowship of the Sun, the noble vampire Godric, the doe-eyed and short-lived Daphne and, in Maryann, someone who sort of took the whole Bridezilla thing a bit far (and who, for the briefest of moments Sunday night, actually seemed somewhat sympathetic).
We saw newly-turned vamp Jessica become both a star-crossed teen lover and a merciless killer, saw life turn dark for the perpetually fabulous Lafayette and watched the Bill-Sookie-Eric love triangle get curiouser and curiouser.
Oh yeah … and there was a lot of blood and a bunch of people got naked. Not that anybody watches the show for that sort of thing. Ahem.
In the end, Maryann got her just desserts, Sookie got her house back and the residents of Bon Temps got un-zombified – plus or minus a finger or two. But in great "True Blood" fashion, the season ended with plenty of questions left. Among them:
1. Who got Bill? Clearly this is the big one. The obvious answer would be Eric – acting on his promise to the queen to make sure Bill doesn't gum up the works of their secret blood-dealing operation. But the show's writers have a way of avoiding the obvious. Lorena? The Fellowship? All possibilities. Hard to imagine Eric's not involved, though. The queen's cover-up order dovetails way too nicely with his hankering for Sookie.
2. What's up with Sam's parents? Fresh from finishing off Maryann (please note the lack of "bull by the horns" puns here) everyone's favorite shape-shifter starts barking up the family tree. "Bad people?" According to the parents that abandoned him? This one promises to be interesting.
3. What of Jason and Andy? Once accused of being a mass murderer, Jason has now actually killed a man. Andy had earned his badge back, but does he have enough credibility to cover up the killing? And how will Tara react to her beloved Eggs living through the Maryann craziness only to take a bullet in the head from a friend?
Good news … there's a Season 3 to answer all those questions. Bad news … it doesn't start until June of next year.
See you then.