I'm all ready to interview Charlize Theron for "The Burning Plain" Junket at the Four Seasons Hotel in Beverly Hills when the first thing I notice is that it's hot inside the hotel suite where the interview is going to take place:  no AC and around 85 degrees Fahrenheit.  There is apparently an AC problem, but you wouldn't have known it by looking at Miss Theron. Her blond, shoulder-length hair was styled perfectly, her make-up was flawless and her dress was conservative yet classic.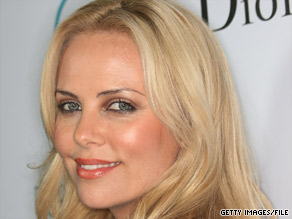 After talking about why she took on the role of a mother with a mysterious past who ultimately seeks to bond with her young estranged daughter, it's apparent there's so much more to Theron than her beauty.  In the film, she is plain and very unassuming. She wears little if any make-up on screen and comes across as "every woman".
Theron is known for playing complex women who have dark sides or have been victimized. Think "Monster" and "North Country" and now Sylvia in "The Burning Plain." What's fascinating is that a woman who many people might consider to be one of the most beautiful women in the world, a woman who was the face of Dior Perfume, a woman who graced the cover of VOGUE Magazine would rather be without make-up!! Theron says she's drawn to roles that are unglamorous because they are much closer to what she really looks like.
I believe Theron, but she's still one of the most beautiful people in the world SANS make-up. So I don't consider it hard for her to go around without it.  But what I admire from this talented Oscar winner is the fact that her beauty doesn't define her or control her and she takes chances that push her farther in her chosen craft. Every time Theron's on screen she becomes the character and that in itself makes her beautiful.