Yeah, Kanye's unsettling display is all the talk of artists coming backstage. If the red carpet was all about the coming Michael Jackson tributes, then the show was about Taylor Swift and Kanye.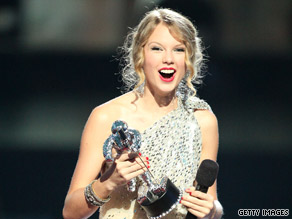 Green Day frontman, Billie Joe Armstrong, told a few reporters backstage, "She's young, she'll get over it. But, he needs to get over it." Armstrong's bandmate,  Tre' Cool added, "He needs to apologize, definitely. That's about as low as you go."
All American Rejects' Tyson Ritter came backstage with a drink in his hand to say Swift should let it roll off. When someone asked if Swift cried over the episode, Ritter answered, "Oh, God, I hope not. She's got like ten million records. She should just stand on her fat wallet and pile of money and cry on top of that."
Then, shortly after the sweet moment of the night– when Beyonce came on stage to accept her Video of the Year trophy and invited Swift on stage– Taylor Swift came backstage to pose for still photographers and answer a few questions from dotcom and print reporters.
This was bigger hub-bub back here than the Madonna appearance. Cameras flashing, tape recorders in her face, the "Best Female Video" winner proved nothing but a picture of grace. We asked her to describe what occured from her perspective. Swift said,  " Well, I was excited to be on stage because I just won the award. And then I was excicted that Kanye West was onstage. Then, I wasn't excited anymore". She noted that she's been getting tons of text messages of support and so many other artists have been supportive here at the show.  As for Beyonce's on-stage invitation,  "I couldn't love Beyonce more", she added.
Asked if she was a fan of Kanye's she answered, her voice quieting, "Yeah, he's Kanye West". As the media pushed and her publicist pulled her away. "I don't want to start anything I am just having a great night". See all the winning videos on MTV.com.
What do you think? Do you think this VMA episode is going to hurt Kanye's career?