Michael Moore spent the day at the Toronto Film Festival talking to journalists about his new movie, "Capitalism: A Love Story."  The film is a blend of archived video, interviews, music and humor edited together to make the point that capitalism, as our nation's primary economic system, has failed.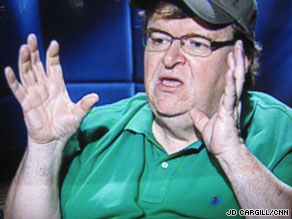 During our interview I asked Moore what he thinks the best alternative to capitalism is.  In short, he told me the country needs to embrace more democracy, that simply casting a ballot once every two or four years is not enough, that people like himself who make a lot of money should be taxed more and that the government needs to increase economic regulations.
He expanded on this last point with a metaphor about nudity.
Moore says if men and women walked around naked people would be understandably distracted and even if they were told not to, they would check out each other's naked bodies.  He says this is similar to greed and in the same way clothing keeps people's eyeballs in check, economic regulations keep people's greed in check.
Does this mean those who support less economic regulations are really nudists at heart?  Oh dear.