I love the Creative Arts Emmy Awards because they're always so unpretentious! Between the Daytime Emmys and the Primetime Emmys this is the one which honors the so-called "behind the scenes" artists and it's always a lot more fun for me!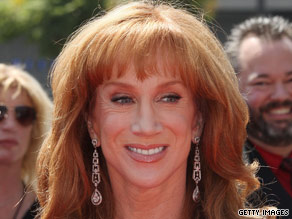 Saturday's show was no different. Kathy Griffin hosted, which raised eyebrows since she never does anything without making headlines and irritating people. She told me on the red carpet, "Two years ago I got in trouble for my acceptance speech. So the fact that they chose me to host makes me think they are desperate."
I don't know if the organizers were desperate or just plain genius for picking Griffin to host the nearly four hour long show at the Nokia theater in downtown Los Angeles. She opened the show with various skits. One pre-taped clip showed her running into a room crying after losing an award to someone else. But here's the shocker: she runs in naked! Of course, certain areas of her body were pixelated so the audience couldn't see her fully nude. But it was surprising even for those of us used to Griffin's hijinks. Another time she mocked the "Toddlers & Tiaras" reality show by dressing like a kid in western attire.
Griffin's acerbic tone aside, she wasn't the only star of the show. There were 84 categories and lots of awards handed out to very talented people. From music composition to visual effects to cinematography to make-up, the best in the biz were rightfully honored. But the more notable faces seemed to garner the most attention, like Tina Fey  for winning an award for impersonating Sarah Palin and Chris Rock for his HBO special "Kill the Messenger." Justin Timberlake and Michael J. Fox were honored for their guest starring roles on various shows. Fey was the only one on hand to personally accept her award and she used her acceptance speech to take another swipe at Sarah Palin: "Mrs. Palin is an inspiration to working mothers everywhere because she bailed on her job right before Fourth of July weekend. You are living my dream. Thank you, Mrs. Palin."
Besides Fey's win, Tyce Diorio shined, winning outstanding choreographer for "So You Think You Can Dance?" He couldn't wait to kiss and tell. The minute he arrived backstage, he read a text message from Katie Holmes congratulating him on his win. "Yahoo I'm so excited. Way to go. Yes Yes Yes. We are here cheering for you. I'm so excited for you. You deserve it. Talented. This made my year. Way to go." The two had become friends after Holmes appeared on the show.
Hmmm... an Emmy Award and then a text from Katie Holmes? And get this... he's slated to dance with Janet Jackson at the MTV VMAs later tonight in NYC. Doesn't get better than that!