Okay, it's been said on this blog before, but sometimes, the WORST place to cover an award show is from the backstage. If you're trying to actually HEAR the show and get a sense of what is going on big picture.  This room is LOUD, yes LOUD. So, in the middle of what looked like SOMETHING Britney Spears did, they turned down the show feed audio back here so that the still photogs could get good shots of Miranda Cosgrove. Cosgrove, and Kristin Cavallari,  by the way, are the only stars who've  been back here since the big opener, Madonna.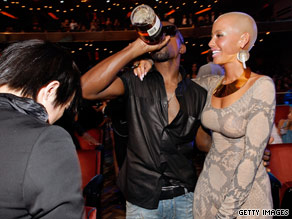 Kanye West takes a drink out of a bottle while standing with Amber Rose in the audience at the VMAs.
What I also missed is the actual audio of Kanye coming on stage in the middle of Taylor Swift's performance. I can tell you that Kanye walked the red carpet and walked past all the media with a big bottle of booze in his hand and waved it to all the media. He didn't speak. All the media just thought he had made peace with the VMA's after vowing never to come to the show again.
If you saw the Britney thing - give me your thoughts. It LOOKED cute? And this is, afterall, pretty much the show that has defined Britney Spears' career - the highs, the lows, the comebacks all played out here. What do you think about Kanye's little stunt? Kristin Cavallari - who just came from presenting with Nelly Furtado - just told the press she thought the whole thing was disrespectful? Is there anything too disrespectful EVEN at the VMA's?