So, as I was saying... In all of the talk of what to expect at the VMA's this year: The Michael Jackson Tribute, the trailer for "This is It"; no one mentioned Madonna. How did that fly under the radar?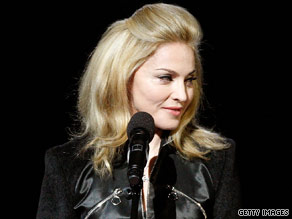 She just came through what is being called the "Backstage Blogger/Stills Room". It's a room with a bunch of journalists  and computers and about– I'm guesing here - 200 stills photographers. For the first time, MTV has decided not to let video cameras backstage to backstage interviews. So no one is really TALKING backstage. The idea is: the person comes off stage and poses on a platform for stills photographers while bloggers write about, I guess,  how they look. They aren't taking questions here.
As for Madonna, she was mobbed by bored press waiting for some activity backstage here. SO I could see her, but not hear. Madonna DID seem to answer someone's question. Madonna was so soft spoken and its so loud back here, no one heard her answer. Not even the journalist who asked it. She asked if anyone else heard the answer.