"Jennifer's Body" star, Megan Fox says there's absolutely no truth to the internet rumors that she's going head-to-head with Angelina Jolie for the lead role in a remake of the 1960's classic, "Barbarella."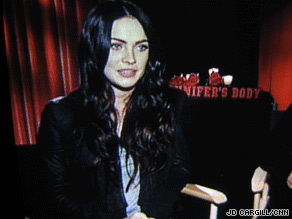 Fox, who is currently attending the Toronto Film Festival promoting her new horror comedy says she wouldn't ignore the call if it came, but as of right now it's just a rumor. Fox added that she and Angelina aren't "really in the same age group." Angelina Jolie turned 34 earlier this summer.
As for her next role, the 23-year actress has already filmed "Jonah Hex" opposite Josh Brolin and will next film "Passion Play" with recent Oscar-nominee, Mickey Rourke.