Editor's note: This post contains spoilers for the Thursday, September 10th episode.
The models took over last night's "Runway" and I was bored before the designers even made their way to Mood. There's practically no backbiting, no crazy challenges, no Michael Kors…if they keep this up, I may have to switch allegiances to Bravo's poorly done "The Fashion Show."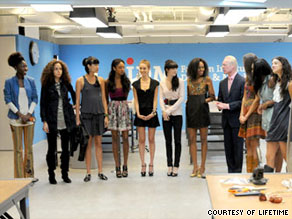 As one commenter pointed out last week, it's obvious the producers are trying to get "Runway" lovers on board with the spinoff show, "Models of the Runway," and I'll be honest: I couldn't care less about the models.
They're cool girls, but I watch "Runway" to see how well the designers can craft a masterpiece with $100 and a day's worth of sewing and to be entertained by the crazy - not to become acquainted with Heidi Klum wannabes. That's what that other modeling show is for.
A challenge based on the whims of the runway stompers could only yield less than interesting results. Hello? These girls are paid to be blank slates, not visionaries. What resulted was a bunch of aimless designs that ended up as off the mark mini-dresses and one very unfortunate Smurf prom dress.
The two standouts were Carol Hannah (who totally should've taken the win) and Althea, who is one of the few consistently strong designers. The only reason I'm knocking her mini-bubble-skirt suit combo is because her model worked that outfit and therefore deserves some credit for its awesomeness.
On the bottom we once again had Qristyl and pretty boy Logan, who's the sequel to season one's Robert Plotkin but with a hint more talent. He uses his looks to squeak by at judging just like Robert did, as last night's sparkly outfit proved.
Who do you think was a hit and a miss last night? Are you as tired of these wack challenges as I am? Let us know.