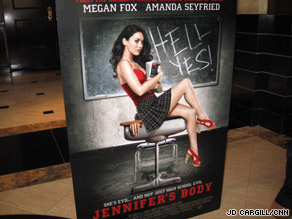 I heard recently that the acronym "OMG" has officially been added to the English dictionary. This is great news because I had one heck of an OMG moment ealier today. You see, when you're in the throes of covering a major entertainment news event, like the Toronto Film Festival, you're likely to encounter at least one, if not more, scheduling errors. It's only human, right? Numbers get transposed, press events change, and sometimes, just sometimes, sit-down interviews with the entire cast of a major motion picture are actually on a different day than you think.
I'm scheduled to interview the cast of "Jennifer's Body," including star Megan Fox, tomorrow, not today. Oh my goodness, is right. But rather than think of this as a mistake, I like to think I showed up to Toronto's Park Hyatt Hotel nice and early – 24 hours early, where I got an exclusive advanced peak at this poster.
Needless to say, an appropriate blog based on an actual interivew with Fox will be posted tomorrow.
As for tonight, I'm attending the red carpet premiere and after party for "The Men Who Stare at Goats" starring George Clooney, Kevin Spacey and Ewan McGregor. Follow my moment to moment updates on twitter at: www.twitter.com/jdcargillcnn