Katherine Heigl's publicist has confirmed to CNN that the actress and her husband, singer-songwriter Josh Kelley, are adopting a baby. It'll be their first child together - adopted or otherwise.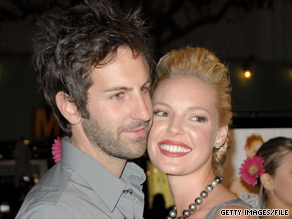 No details were provided by the publicist, but the website RadarOnline reports that the couple's been trying to adopt for about six months, and that the baby is a 10-month-old girl from Korea.  Her name is reportedly Nayleigh, and her nickname will be Leigh.
The star of "Knocked Up" and TV's "Grey's Anatomy" is following in her own parents' footsteps: her sister Meg was adopted from Korea. Earlier this month, various blogs and entertainment newsites reported that Heigl was taking a leave of absence from her role of "Dr. Izzie Stevens" on "Grey's" to film the romantic comedy "Life as We Know It."  Hmmm... maybe she got the time off instead to prepare for her new arrival?  What do you think?