I heart "Glee."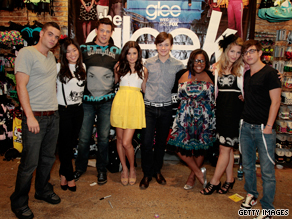 After waiting four long months for a new episode after the pilot, it was worth the wait.
With all of the build-up in the media, and the anticipation, I was a bit worried that the premiere episode would be a bit of a let down. While I don't think Wednesday night's episode quite reached the level of hilarity of the pilot, it was still laugh-out-loud funny for me.
There was just so much comedic gold to mine, from the delicious evil that is Sue the cheerleading coach, to the stoic resignation of soprano Kurt ("You all will be working for me someday") Hummel at his being tossed daily in the dumpster.
Then there is the music.
A show choir version of "Golddigger?" Salt-N-Peppa's "Push It" at a school assembly? Priceless!
I think this show has everything, including the will-they-or-won't-they brewing romance teachers Will Schuester and Emma Pillsbury. She may be a massive germaphobe, but I am so rooting for Emma to be able to get her hands on her true love – in a chaste (and hygienically acceptable) way until he can ditch his materialistic wife, of course.
Did "Glee" live up to your expectations?