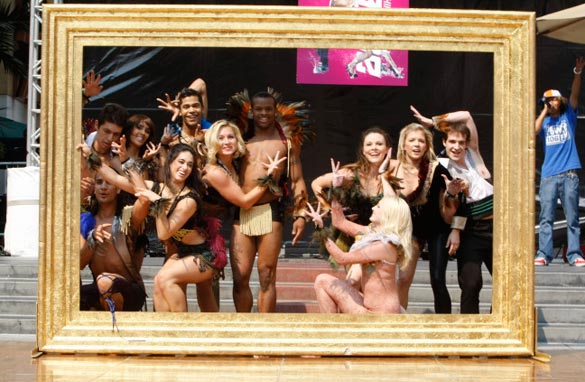 My, how time flies. It seems like it's only been a month since the last season of "So You Think You Can Dance." Oh wait, it has only been a month! Last night, Fox launched an ambitious challenge to ABC's dance show dominance of the fall (not to mention a lead-in to the highly-anticipated "Glee") by premiering a brand-spanking new season of "SYTYCD" (as the kids call it) in the fall. And boy, did it start off with a bang.
I'm not sure if it's the fact that it was a one-hour episode, but they seemed to focus a lot more on good dancers than usual for this premiere, showcasing two days of auditions in Los Angeles. Things didn't start off promisingly, with Cole Clemens' rather inexplicable music-less, spoken-word audition. If anyone wants to explain what he was doing, please feel free in the comments.
Things quickly got a lot better with contemporary dancer Mollee Gray, whose family picked up and moved to L.A. She can best be described as "Randi-esque" or "so this show," as judge Adam Shankman put it.
If you're going to go with a non-music, spoken-word audition, it certainly helps to have the talent of one of the best non-top-20 (so far) dancers of all time, Ryan Kasprzak. He really stepped out of his younger brother, Evan's shadow, last season and cemented it with a tap-dancing solo that blew away the judges and got him a ticket straight through to Las Vegas (though we knew that).
Fellow tapper and season five hopeful Bianca Revels was asked to take part in a tap battle, or "trade," and it was probably one of the coolest things I've ever seen on this show. You can bet your tap-dancing shoes that the producers will follow them closely during Vegas week.
The less said about "film producer" Christopher Aguilar, the better. Let's move on to Amber Williams, who told the heartbreaking story of having to take care of her paralyzed mother at an early age. Her effortless pirouette to the floor was certainly top-notch stuff, but it remains to be seen if she has what it takes to make the top 20.
Amber was the first of many contemporary female dancers who wowed the judges, like Alexie Agdeppa, another blast from the season past. We didn't see much of her but what we did reminded me a lot of season four's Katee.
It wasn't all about contemporary on the second day of L.A. auditions: Christina Santana performed a sizzling hip-hop-infused ballroom routine, for which a lot of the credit goes to her choreographer. But hey, dancing well to someone else's choreography is what this show is all about.
Last but certainly not least, we had a bonus tap-dancer, Ryan's friend Phillip Attmore, whose routine paid tribute to Gene Kelly, Gregory Hines and other legendary hoofers. He may technically be the best dancer of the three so far. It could certainly shape up to be "the year of the tappers" as executive producer/judge Nigel Lythgoe put it, and host Cat Deeley reminded us on multiple occasions that no tappers have ever made the top 20. So here's hoping that at least one of them will make it.
What do you think? Which of last night's dancers do you want to see in this season's top 20?