Any gamers jamming to "Guitar Hero 5" for the last week or so may boast the finger-tappin' skills to have unlocked the Kurt Cobain character in the game. Once unlocked, a likeness of the late Nirvana frontman can be used during a song of the player's choosing.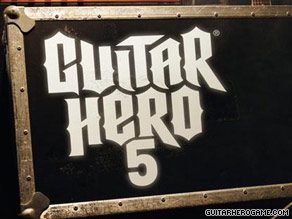 Cobain's new video game likeness has his former bandmates Dave Grohl and Krist Novoselic a little peeved at Activision (the developers of "Guitar Hero 5"), as the joint statement below suggests:
"We want people to know that we are dismayed and very disappointed in the way a facsimile of Kurt is used in the Guitar Hero game. The name and likeness of Kurt Cobain are the sole property of his estate – we have no control whatsoever in that area.
While we were aware of Kurt's image being used with two Nirvana songs, we didn't know players have the ability to unlock the character.

This feature allows the character to be used with any kind of song the player wants. We urge Activision to do the right thing in 're-locking' Kurt's character so that this won't continue in the future.
It's hard to watch an image of Kurt pantomiming other artists' music alongside cartoon characters. Kurt Cobain wrote songs that hold a lot of meaning to people all over the world. We feel he deserves better."
Despite their disappointment, "Guitar Hero 5" developers got an O-K from the one individual who matters when it comes to Kurt Cobain's estate: Courtney Love.
"Guitar Hero secured the necessary licensing rights from the Cobain estate in a written agreement signed by Courtney Love to use Kurt Cobain's likeness as a fully playable character in Guitar Hero® 5," reads a statement released to CNN by Activision.
Apparently Courtney isn't feeling the "love" with the final product. CNN received this statement from her attorney Keith A. Fink:
"Ms. Cobain is extremely upset about Activision's use of Mr. Cobain's likeness to sing the songs of others in its Guitar Hero game. Activision was granted permission by Kurt's trust solely to use his name and likeness. Activision was not given an unbridled right to use Mr. Cobain's name and likeness. Kurt's songs have a special and unique meaning to his fans and his image and legacy are very important to Ms. Cobain. The agreement Activision has with the trust doesn't allow them to use his likeness in ways that denigrate his image. We would hope Activision would do the right thing on its own and prohibit game users from using Kurt's image to sing others songs and if they don't we expect the trust to take appropriate action to protect Mr. Cobain's image."
Do Grohl and Novoselic have a legitimate beef? And what about Courtney? Should she have signed off on the deal? And what would Kurt think?