Madea's alter ego, Tyler Perry, was in New York today doing press interviews for his new film, "I Can Do Bad All By Myself." During my time with Perry I asked him what advice he would give to Chris Brown.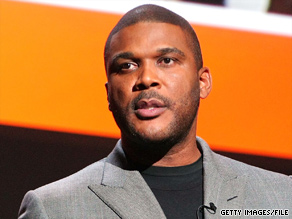 Without hesitation he told me. "I would love to have a conversation with Chris. A real conversation on television where he sits and he talks because I think…people want to forgive him. People want Chris Brown to be better, but the only way he's going to get there is to admit everything that he did, put it all out there judge it for himself and feel bad for it - for himself really truly have animosity about it.
And then I think people will be able to move on. But as long as there's this: 'I don't remember' and there's this being ambiguous about a lot of things or not sure or not clear hmmm (shakes head no). But if he and I talked on television one-on-one, man to man, I think that a lot of people would understand."
Perry was so calm and certain in his answer. I asked him why he would be the right person to speak with Brown.
"Because of my father... His mother was in an abusive relationship and my mother is too. She's still married to the - I almost said something really awful but he is my father so I respect him. I had to make a choice early on because I know what it's like to be so angry and then to love so passionately and to love so hard to be angry that you feel out of control but that when there is a moment when you can cross that line where you have to grab everything that's in you and have to pull yourself back. So I think we would be able to relate on that level sure. I've never hit a woman. I've never hit anyone for that matter, but I understand being that angry and that frustrated and ready to go."
Would you like to see Tyler Perry speak with Chris Brown?