I have been an unabashed Beatles fan ever since I discovered my older brother's "Red" and "Blue" compilation albums and laid on the ground in my parents' living room, listening to them over and over as I studied the album covers.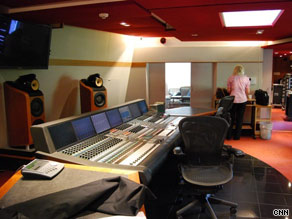 So when CNN was given a chance to do an interview at Abbey Road in late August and talk to two of the engineers involved in "The Beatles Remasters," I couldn't wait. A visit to Abbey Road for me is like a walk on the baseball diamond in Yankee stadium for a Yankees fan. It is a moment to cherish.
As we made our way to the Penthouse for the interview we got to walk past tape machines and other equipment stored in the hallways for later use. It is fun to imagine what each piece of technology may have been used on before it got stored in the hall.
CNN talked to Allan Rouse, who was Project Coordinator for The Beatles Remasters, and Sean Magee, who worked on the mono mixes.
Allan and Sean were passionate in talking about the Beatles. We had a very good interview with them.
After we wrapped the interview we were asked if we would like to hear a little of "The Remasters." Like that needs an answer! So they pulled out one of the stereo boxed sets and poured the CDs along the side of the mixing desk. All the albums cascaded down. Stunning.
Then they sat us down behind the mixing desk as they played us a sample CD containing snippets from the 1987 issues and then the same snippet from the new CDs, 14 songs in all, including "Twist and Shout," "Yesterday," "Goodnight" and "Come Together."
I must say when they played the old CD snippet on the very nice Abbey Road speakers it sounded very good. But when they played the next snippet, from the new CD - it was infinitely better.
The vocals really stand out now and the harmonies seem more separate from the main vocal in a good way and more separate from each other. The vocals and breaths and their voices sound clear as if they are in the room with you - which in Abbey Road really took my breath away.
I was particularly thinking, "Paul is just in the next room singing this" when they played "Yesterday" - and then I caught myself and smiled thinking, "No, but this building is WHERE he sang this."
We asked them questions about how they handled problems on the original tapes. They said they did fix (or smooth over) bad edits, such as pops and crackles that came from recording machinery that were deemed mistakes.
So I asked them how far they could go - could they fix something that was, I think, a glaring error? For example, I asked, did you guys fix the stereo "Eleanor Rigby"? In that song, McCartney's voice is double-tracked until partway through the word "Eleanor" and then one side is brought down. I said, surely the original mixers didn't INTEND that to happen.
Allan Rouse got this look. It was probably a look that meant he was thinking, "Oh, he's one of those Beatles fans" - one who listens to every little thing, and knows the flaws –- intentional or not –- by heart.
This is the problem the Abbey Road engineers had in doing "The Remasters." They had to not only do a good enough job for the casual fans but also to do a good enough job to satisfy the people who live and breathe this stuff.
So Allan puts on "Eleanor Rigby" and the mistake is still there. Allan patiently told us since this was the way the stereo mix was made originally, this is the way it stays.
I could have talked a lot longer but it was time to go. As we walked out we passed by the doors to Studio One and Studio Two and I said a silent thank you for all the good work that was done there.
I think I will have a hard time ever matching the thrill of listening to "The Beatles Remasters" inside Abbey Road.