How exactly does one attempt to break the Guinness Book world record for the most people dancing to Michael Jackson's "Thriller?" As Sunday night's event at Atlanta, Georgia's Dragon*Con proved, it's no small feat.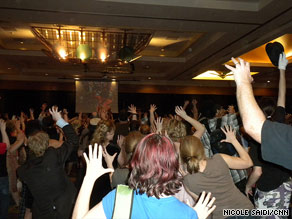 Participants were asked to sign up and get a number all throughout the weekend, and were encouraged to attend two rehearsals earlier in the day. Dancer Ben Acosta of Huntsville, Alabama, explained, "They took you through all the steps and broke everything down to bring all of the components of it together."
The atmosphere in the Sheraton hotel ballroom was electric in the minutes leading up to the big moment, with spontaneous applause and chanting breaking out on more than one occasion.
Jackson look-a-likes (including one who took the stage to lead the dance) and dress-a-likes were prevalent, along with a multitude of "zombies," not an unusual sight for the annual convention. Among the participants were someone dressed as an "Alien" from the long-running film franchise of the same name, and another convention regular in a costume based on "Sesame Street's" Cookie Monster.
So did they break the record? Convention staffers told CNN that they were able to sign up 1,118 dancers. However, a large group in Mexico made another attempt to break the record, previously set by 242 College of William & Mary students back in April. Guinness Book officials are expected to sort through all of this in the coming days. Regardless of whether they broke the record, everyone there seemed to have a lot of fun. As Acosta put it, "It was a chance to be part of something extraordinary."