An enthusiastic crowd greeted director and "Monty Python" alum Terry Gilliam at Dragon-Con in Atlanta earlier today, and he was just as excited to meet them.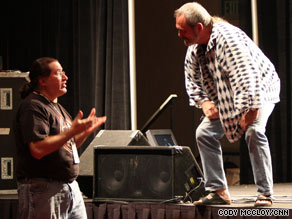 Gilliam, best known for the films "12 Monkeys," "Fear and Loathing in Las Vegas," and "Brazil," spoke to convention-goers about making his upcoming film "The Imaginarium of Dr. Parnassus," which stars the late Heath Ledger in his final performance. His fans were treated to footage of the movie, including one never-before-seen clip featuring Ledger.
Gilliam said "Parnassus," with 650 visual-effect shots, cost only $25 million to make and done without the help of any movie studio.
When it came time for Gilliam's question-and-answer session, he realized he couldn't hear the audience. So he made do by gleefully trotting over to the edge of the stage to shake hands and take questions up close.
Gilliam confirmed that his abandoned project, "The Man Who Killed Don Quixote," was back on track. The unfinished movie, whose trials and tribulations were seen in the documentary, "Lost in La Mancha," was to star Johnny Depp (who also stars in "Parnassus" as an incarnation of Ledger's character). Gilliam said that Depp has other commitments now and they're casting for someone to fill his role.
Gilliam joked that they wouldn't need a documentary crew for the new project because this time it would be finished.