DJ AM was remembered Wednesday in a small funeral attended by family and friends, including Travis Barker, People reports. A larger memorial service will take place today at the Hollywood Palladium in Los Angeles.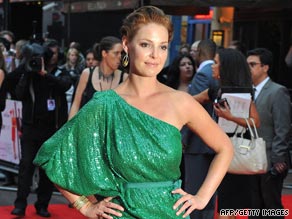 Katherine Heigl is taking a short leave of absence from "Grey's Anatomy" to film the romantic comedy "Life as We Know it," according to EW.com. The Web site reports that Heigl will miss five episodes and her character's absence will be explained on the show.
The 3D craze hitting theaters will soon extend into your living room. The Hollywood Reporter says that consumer electronics manufacturers are working on 3D television sets. Bob Perry, the executive vice president of Panasonic Consumer Electronics, tells the paper that this is "the new frontier of television."
"Will & Grace" star Megan Mullally is joining the cast of the Starz series "Party Down" after the departure of cast member Jane Lynch (now on "Glee"), according to The Hollywood Reporter. The show's new season is scheduled for April.
People reports that Lisa Loeb is expecting a baby with husband Roey Hershkovitz. Their first child is due in the winter.