"Iron Man" director Jon Favreau is considering teaming up with Robert Downey, Jr. again, this time for a movie called "Cowboys & Aliens," a title which gives you a really good idea of the film's plot, Variety reports.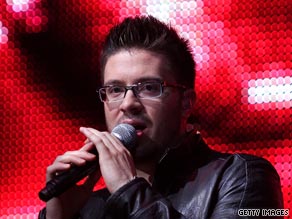 Danny Gokey of "American Idol" has signed a record deal with 19 Recordings/RCA Nashville, meaning that all of the four "Idol" contestants from last season have a deal, according to USA Today.
"Resident Evil" director Paul W.S. Anderson wants to bring back the "Three Musketeers" in 3-D, according to The Hollywood Reporter.
The last time the "Musketeers" hit the big screen was a 1993 movie with an all-star cast including Charlie Sheen, Kiefer Sutherland and Chris O'Donnell.
Chicago mayor Richard Daley defended shutting down city streets next week for an "Oprah Winfrey Show" taping that will include a concert by the Black Eyed Peas, according to the Chicago Sun-Times.
Daley said, "This is really important. This is a great opportunity. I'm very proud." The article states that Harpo Productions will reimburse taxpayers for the cost of city services.
"Bones" star David Boreanaz is a father for a second time, according to People. His daughter, Bardot Vita Boreanaz, was born on Monday.
In celebration of 1,000,000 Twitter followers, "Punky Brewster" star Soleil Moon Frye brought back "Punky power" by dressing up as her character from the '80s.