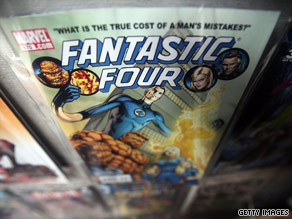 After Monday's news of Disney purchasing Marvel, what does this mean for the various Marvel film and stage projects? EW.com reports that Paramount put out a statement saying that this will not affect their multiple Marvel movie projects, including "Iron Man 2" and "Thor."
The troubled "Spider-Man" Broadway production is unlikely to get any help from Disney, reports Variety. Meanwhile, 20th Century Fox would like to "reboot" the "Fantastic Four" franchise. Writer Akiva Goldsman has been brought in to help accomplish that, according to Variety.
If you're looking forward to seeing how Seth Rogen handles being a masked crime fighter, you'll have to wait a little longer. Variety reports that "The Green Hornet" has been postponed until December 17, 2010.
Sequels and remakes on the way: "Bad Boys 3" is in the works, according to The Hollywood Reporter; a fifth "Rambo" is on the way, according to Variety; and a new series based on the '80s "Teen Wolf" movies is headed to MTV, according to The Hollywood Reporter.
The expanded list of nominees isn't the only upcoming big Oscar voting change. Variety reports that Academy members will now have to rank their favorite Best Picture nominees, instead of just voting for their favorite.
This summer was the highest-grossing ever at the box office, over the previous record set in 2007, according to Variety.