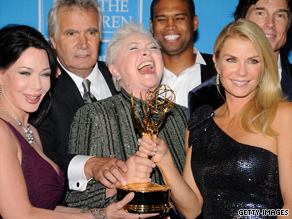 "The Bold and the Beautiful" cast, at right, took top honors at Sunday's Daytime Emmy Awards. It was the first time in the show's 22-year history that it won the award for drama series, according to The Hollywood Reporter.
It was also a bittersweet victory for Jeff Branson, who tied for supporting actor honors, as his show, "Guiding Light" is going off the air after 72 years. In talk show categories, Rachel Ray, Tyra Banks and hosts of "The View" were big winners.
"Halloween II" lost the big box office weekend battle to the 3-D horror sequel, "The Final Destination." So, as The Los Angeles Times reports, the next "Halloween" will be in 3-D.
This week's reruns of "Fringe" and "Glee" will come with a bonus: fans can follow along on Twitter for trivia about the show, according to Variety.
Former first daughter Jenna Bush Hager is joining NBC's "Today" as a part-time education correspondent, according to People.
New music out today: "I Look to You" by Whitney Houston, "The Chronic: Re-Lit" by Dr. Dre, "The Blue Ridge Rangers Rides Again" by John Fogerty, "Killer" by Alice Cooper, "Here Comes Science" by They Might Be Giants, "Bang! Pow! Boom!" by Insane Clown Posse, and "Terra Incognita" by Juliette Lewis, among others.