Editor's Note: This post contains spoilers for the Sunday, Aug. 30, episode of HBO's "True Blood."
A mess, hilarious, captivating and confusing.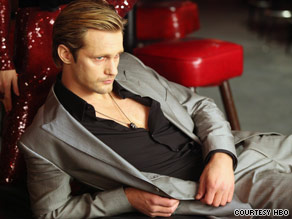 Sunday night's "True Blood" episode, "Frenzy," was all of that.
Maybe it's because the show was a setup for the season finale. But, wrapped around the typically creepy, hilarious and just plain fun scenes were some real duds.
Bill's opening sequence with the queen? It dragged. How many times do we need to see Bill offered a tasty morsel and refuse it before we're supposed to get the point?
The scene between Tara and her mother? Frustrating. OK, I get it. People need to do stupid things in horror movies/shows so they can get into potentially bloody situations. But she'd leave her family and closest friends to go rescue a guy she's known for a couple of months? And her mother, despite a well-established lifetime of bad decisions, would help? It was just hard to believe, even by "let's split up so I can go into the dark basement alone and fix the circuit breaker" standards.
And while we're on Tara – an egg? Really? No … really? I'll accept vampires, shape-shifters and immortal servants of a Greek god for you, Alan Ball. But that felt weird just for the sake of being weird.
All that said, there was still fun to be had. Take Lafayette and Sookie's scenes on the front porch. Nelsan Ellis as Lafayette manages to be hilarious, sympathetic and brave. Consistently great character who the show's creators, thankfully, didn't kill off like the Charlaine Harris books did.
Eric's scene with the "teacup humans" also rocked. Drool over the guy all you want – but don't forget he's the sort of creature that finds babies delicious.
Also, we find out how Maryanne got to Bon Temps and why she's so set on catching Sam, are treated to another fun episode of Jason and Andy doing their Rambo impersonation and enjoy the wonderfully creepy sight of Jane carving up a special hors d'oeuvre for "the god who comes."
I'm holding out hope that this week's sloppiness was just a minor slip as the "True Blood" creators load up for an amazing finale.
Don't forget there's a two-week wait – no bloodsucking on Labor Day weekend.