Ladies and gentlemen, we have liftoff.
Simply put, I loved the show. We have now returned to the familiar place that "Entourage" keeps us in. From my strange "thing" for Beverly D'Angelo's character (don't ask – but yes, I want more "Babs" please) to Andrew Klein's pajamas, the episode started well and ended phenomenally, just like its supposed to. I even saw Turtle's bong make an appearance after a long hiatus.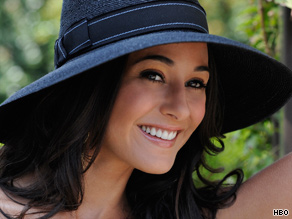 The only hiccup I could have held my breath for was the "Vince versus stalker" storyline. Its neither catchy nor compelling. Yes, I know there's a nut on the loose, but the drills weren't laughable, and the security guy isn't funny either.
Other than that? The show grabbed me, shook me, spun me around, patted me on the head and told me to "enjoy the rest of my night" once the credits rolled.
For the record, I keep having to go all the way back to my first blog of the season where I called for an end to Sloan's character, at right, and/or her relationship with E for some ungodly reason. What was I thinking?
Since then, I've been "Sloan'd" several times by her appearances, and last night was no exception. She placed a call to E to check in on him and I found myself not wanting the scene to end. E met her for cocktails (Hi Sloan!), got the call from Ashley (uh-oh), and ultimately decided that he had enough of Sloan's indecisive nature (What? NO!). As Eric drove away, I exhaled and silently mouthed the words "Bye Sloan" to the TV. Please don't be gone Sloan. I didn't mean it. I rebuke that first blog!
Meanwhile, the readers have been pretty diligent about frying anyone who speaks a harsh word about Ari Gold's character on the show. Well, last night's performance is what Emmy noms are made of. Don't be surprised if you see him eagerly waiting to hear his name called for the award as scenes from last night's show portray him in the role. What a fantastic performance.
As his scenes unfolded, Ari guides Klein through the chaotic wilderness of his own creation, only moments before the single-most important meeting of his professional life. Then, in an instant, we get the patented Entourage "mayhem" we've come to know and love as Klein reacts to his "Sorkin notes" going up in flames at the hands of his jilted wife. Klein then gives us a gift by reversing his Cadillac, and driving it through the front of his very own house.
At this point in the show, I'm now standing up in front of the TV. Wow! I remember discussing this "Klein implosion" concept earlier in the season, but wow! Talk about a tree bearing juicy, delicious fruit??
By now, I'm actually hoping Klein can score the Sorkin deal, and what do you know? The uber-schmuck comes through from behind the prison glass, and I'm officially spent.
All in all, I believe we got more of what we were looking for in our beloved show.
By the way, you'll be glad to know I just added my stellar suggestion for "Pajama Mondays" to the employee suggestion box.
Loved, kinda liked, or hated this week's show? Let us know!