DreamWorks Studios has picked up the rights to the late Michael Crichton's final novel, according to The Hollywood Reporter. "Pirate Latitudes" will be written by David Koepp, who also scripted "Jurassic Park." It's unknown as of yet whether or not Steven Spielberg, a producer of the film, will direct.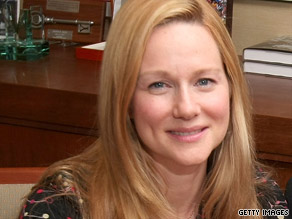 Acclaimed actress Laura Linney, at right, will star in the upcoming Showtime series, "The C Word," Variety reports. The series is a dark comedy about a woman with cancer.
ABC's much-anticipated remake of "V" has been shut down for two weeks, according to EW.com. This is not expected to affect the show's premiere date of November 3.
Last season Fox's "Terminator: The Sarah Connor Chronicles" was paired with "Dollhouse." This season, "Terminator" is canceled but one of its stars, Summer Glau, is joining "Dollhouse," according to EW.com. Glau's first major role was on the short-lived cult series "Firefly," from "Dollhouse" creator Joss Whedon.
At the box office today: Rob Zombie's sequel-to-a-remake, "Halloween 2," Ang Lee's latest "Taking Woodstock," and "The Final Destination," which is actually the fourth film in this series. iReporter Kevin R. Farren has a review of the latter.