Way back in May of 2001, John Mayer was arrested in Georgia for driving without a license, but that's hardly news.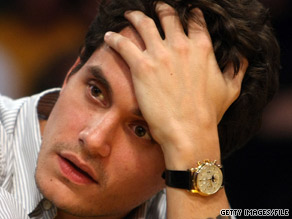 What IS news, however, is that a mugshot was taken of the Grammy-winning singer/songwriter... a mug shot that has been rather elusive... until now.
TMZ.com posted the coveted Mayer photo Thursday afternoon. So why is this eight-year-old mug so compelling? Here's the backstory:
Wednesday Fall Out Boy singer Patrick Stump was arrested in Los Angeles for driving without a license and later released on $15,000 bail. Thursday, Jon Mayer tweeted that he was arrested for the same offense as Stump and  posted the following message on his Twitter page to TMZ.com's Harvey Levin:
"Challenge: if Harvey Levin at TMZ can produce my mugshot, I will donate 25k to the charity of his choice."
Well, TMZ delivered... and it sounds like the celebrity website is serious about making Mayer deliver on his challenge. The website wants to donate the cash to an animal charity... saying they're close to saving a puppy's life.
Do you think Mayer will cough up the cash?