Editor's Note: This post contains spoilers for the Sunday, August 23 episode of HBO's "True Blood."
Religions based on the worship of space aliens, The Dude from "The Big Lebowski" and spaghetti monsters? Seen 'em all - old news.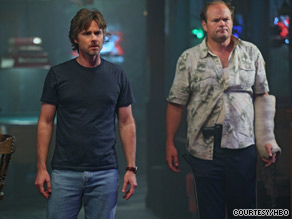 But Jason Stackhouse in a gas mask with antlers made out of a tree branch? I think that's a spiritual leader we can all believe in.
The segment with Jason, Sam Merlotte and Andy Bellefleur fighting their way through Sam's bar in Sunday's "True Blood" episode, "New World in My View," was a highlight.
Basically, we were served up a short zombie movie in the middle of a vampire show. Sure, there was no gore-splattered hacking and slashing, but all the key elements were there.
Chainsaw? Check. Mindless horde of your former friends banging on the door? Check. Hapless buddies working their way through the mob in increasingly creative ways? Check.
And Jason's shirtless appearance to fool the black-eyed horde was classic. Who didn't laugh at a "god" who doesn't know what the word "smite" means and serves up such eloquent pronouncements as, "I am the god who comes! I have come … and now I am here!" (We'll step slowly away from the possible double entendre' there as it applies to Jason, OK?)
Maryann haters, and indeed there are many, can take heart in the fact that Sam's escape, combined with Sookie's newfound face-zapping ability, suggest there are some chinks in the armor of Dionysus's No. 1 gal – even if her decidedly non-tasty blood means Bill might not be much help.
Only two episodes left this season, which means there's not much time left for Maryann to become this season's Rene Lenier (hopefully).
Who knows? If they're lucky, they may make it out of this mess before Maryann's meat tree goes bad.