As evidenced by last week's blog comments, many of you are growing restless with "Entourage." I am no exception. The many comments ran the gamut, from "the show is just alright", to "lose Ashley/she's terrible", to "I need more Ari" and finally, a personal favorite, "It's the only reason I have HBO". I agree with all of the above, and alas, the pressure for the show is on.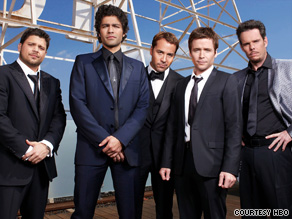 In this week's episode, Vince is awakened to the panic of some "thing" that went bump in the night, while Arnold, the boys' "guard dog" is un-phased by the disturbance. I'm unphased too, for now...
Elsewhere, Eric's first day at Murray Berenson is packed with stimulating dialogue, and I'm officially a fan of George Segal. He runs the place with a brash brand of unforgiving honesty and cynicism, yet he still seems to show genuine care for the business and for the people who make it successful.
Then, the show suddenly takes an interesting turn. Wait, is that Bob Saget?
Now, I don't know about you, but I was taken aback by THIS Bob Saget's personal mojometer. It was pretty much the size of a Cadillac Escalade and I like it! (cue my "Yeah Bob!" shout to the TV).
Saget is the man, and this is NOT "Full House" version either. This alter-ego is like Bob Saget "remixed". Let's call this guy "Bobby Saget". He's slick and a likable tad bit full of himself, laying down the law for exactly what HE sees as the benefit of having HIM for a client.
Meanwhile, another show newcomer, cocky agent/insecure hotshot Scotty Lavin (aka Scott Caan of the "Ocean's Eleven" franchise) tries to woo him and Bobby's not feeling him in the least.
Simply put: Wow. These two Entourage rookies actually bring new flavor to the episode. When you throw in a third new player with a solid contribution from studio exec Dan Coakley (Matt Letscher), his masterfully executed torture of Johnny Drama has me on-board with this new trifecta.
These three fresh faces look promising and I think the show got it right with these guys. I'm not certain exactly how much Bobby Saget we'll get, but Scotty Lavin's newly-minted rivalry with E should be entertaining. Drama's "fury-turned-groveling" unto Dan Coakley was a somewhat entertaining train wreck that shouldn't have cost me any Drama "respect" points, but it did and I'm not sure what side-effects I'll experience as I see Drama in future episodes.
Rounding the show out, Vince's need for security at the hands of a possible stalker made for a compelling lead-in to next week. As for me, I was happy with the show this week. I'm excited to see how things move from here, but wait a second...Where's all my underwear?
Loved, hated, or kinda liked the show? Let us know.