Quentin Tarantino is a Jack-of-all-trades: director, writer, actor, producer - and music aficionado! His latest masterpiece is "Inglourious Basterds," and being an admirer of his work, I'm going to go out on a limb and say it's on the same level as "Pulp Fiction," if not better! Yeah, I said it - so there!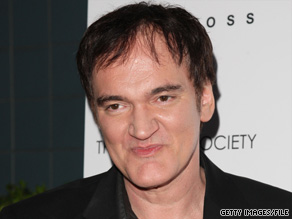 But it wasn't his World War II action-packed drama set in France that made people stand in line on Thursday night to see him. It was the music! Tarantino came out to Amoeba Records in Hollywood to sign CDs for the soundtrack of "Inglourious Basterds," which went on sale this week; the movie hits theaters today.
About 75 hyped-up fans and journalists showed up for the signing, and Tarantino didn't disappoint. He talked to the media about the soundtrack, but also talked about how every film he does has a certain music genre attached to it:
"When I go diving around looking for music, I am looking for the beat of the movie. I am looking for the rhythm of this movie. In the case of 'Pulp Fiction,' it could be surf music. In the case of 'Jackie Brown,' it would be '70s soul music. In the case of this one, it would be spaghetti Western music. That's the thing that kind of makes this World War II film stylized and kind of gives it an epic western grandeur."
The "Inglourious Basterds" soundtrack was executive produced by Tarantino, has14 tracks, and sounds like France in the 1930s - with the exception of one modern surprise: the inclusion of David Bowie's 1982 song "Cat People."
Anyone who knows anything about Tarantino knows he is a music lover, and has appeared on "American Idol" as a guest judge. So after a few minutes of interviewing him, I had to ask if he had any musical aspirations, like adding "record label owner" to his list of accomplishments. His answer was humorous but real: "Every time I think I want to be the Puff Daddy and Jay-Z and or Spike Lee or that I want my own thing, I think again to myself that it will never work out because I'm just too damn lazy. My job is making movies, not making T-shirts."
Got to love Tarantino!