Billboard magazine reports that two of its chart records - most consecutive weeks at No. 1 on the Hot 100 pop chart by a single artist, and most consecutive weeks on the Hot 100 by one song - have been broken.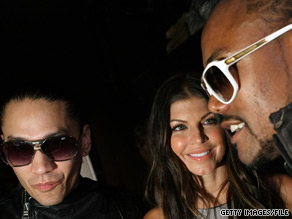 With its eighth week at No. 1 with "I Gotta Feeling," the Black Eyed Peas have now held the top spot for 20 straight weeks. Prior to "I Gotta Feeling," "Boom Boom Pow" topped the charts for 12 weeks.
The previous record was held by Usher, who marked 19 weeks straight at No. 1 with "Yeah!" and "Burn" in 2004.
As for total weeks on the Hot 100, Jason Mraz's "I'm Yours" has now notched its 70th straight week, outdoing LeAnn Rimes' 1998 hit "How Do I Live."
Decades ago, this kind of run would have been unfathomable. The Beatles spent 14 straight weeks at No. 1 in 1964, partly thanks to the free-for-all surrounding the band's early singles (smaller labels such as Swan and Vee-Jay released Beatles singles in the U.S., along with Capitol). Elvis Presley's 1956 run predated the Hot 100, so his "Hound Dog"/"Don't Be Cruel"/"Love Me Tender" streak ran for different lengths on different Billboard charts, which then ranked best-selling and most-played songs separately.
Even the Bee Gees saw their big streak of "Saturday Night Fever" singles, "How Deep Is Your Love," "Stayin' Alive" and "Night Fever" - which logged a total of 15 weeks at No. 1 in 1977-78 - broken up by others.
But in recent years, with Nielsen SoundScan now the standard for ranking records, narrower playlists and highly segmented pop formats, several songs have had double-digit runs at No. 1, as well as many-month stays on the Hot 100. In 1997, the artist formerly known as Puff Daddy and Faith Evans logged 11 straight weeks with "I'll Be Missing You"; Brandy and Monica held the top spot for 13 weeks the following year with "The Boy Is Mine." Just last year, Flo Rida and T-Pain's "Low" was No. 1 for 10 weeks.
So keep an eye on the charts. Songs may stay there longer, but records are still meant to be broken.