To quote a friend: "The stupid!  It burns!"
Actress Patricia Heaton, longtime foil to Ray Romano on "Everybody Loves Raymond," is the squirm-inducing subject of the latest viral video spreading across the Internet.  No, she wasn't captured in an unguarded moment by the paparazzi - Heaton was in a television studio, fully aware the audience and the cameras were watching.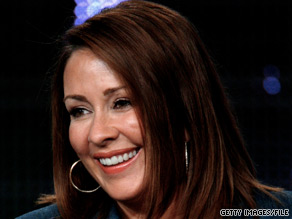 The occasion was Monday's celebrity edition of "Who Wants To Be A Millionaire!"  Just for showing up, Heaton earned $25,000 for her cause - badly-needed medical care in Sierra Leone - and to double the prize, all she had to do was answer a single, second-grade-level math question:
"If a Euro is worth $1.50, five Euros is worth what?"
Her choices were (a) thirty quarters, (b) fifty dimes, (c) seventy nickels, or (d) ninety pennies.
Heaton, who'd already admitted/bragged "I didn't spend enough time in the classroom" as an Ohio State undergrad, immediately began to panic when she saw the question, whining "I can't do math!"  Way to make the Buckeye State proud there, Patty.  Host Regis Philbin tried to help, but from the outset, Heaton seemed more interested in complaining than in trying to answer the question.  At one point, Heaton - who'd begun her appearance by claiming that Midwesterners like her were "smarter" than people on the coasts - told the host "I put everything on credit cards, Regis - I have no idea what this is."  Oh, the pain.
Anyone would get nervous tackling a subject that's not their strong suit on national television.  But for the longest time, Heaton not only didn't know the answer, she didn't seem to know how to figure it out.  She even phoned her husband, because "he's European."  Right, because it was the Euros thing that made it hard.  Finally, after Regis displayed the patience of Job in guiding her through the question, she figured out that $1.50 times five is $7.50 (earning an ovation from the audience) and then, going through all of the answers, that thirty quarters was also $7.50 (another ovation).
Heaton is far from the first celeb to make herself look foolish for a good cause.  But as a parent in California, where budget cuts are primed to drop the state to 50th (that's out of 50, Patricia) in per-student spending for education, the message that being so remarkably clueless in a basic subject is something to laugh about - not to mention far less important than being famous - made me cringe.