For those familiar with my blogging this summer, you have been subjected to everything from a rant about Comic-Con spandex to musings about Brad Pitt's big secret from the Hollywood Premiere of "Inglourious Basterds."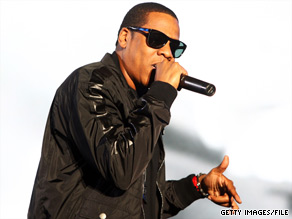 In short, you have suffered, smiled and paid your dues, and now you deserve a little kickback. Therefore, it is with great pride that I bring you a CNN Marquee Blog exclusive! And not just any CNN exclusive, but one which promises the chance at going to a major music concert for free!
Digging deep into their entertainment and promotional pockets are the marketing executives of Samsung and AT&T. The powerhouse companies have been offering music fans the chance to see some of the biggest acts in the world completely free all summer long, including performances by Daughtry, The Offspring, T-Pain and Dierks Bentley.
Now, CNN can exclusively announce that stop number 8 of their 9-city Summer Krush tour will be at the Chicago House of Blues, where international rap sensation Jay-Z will take center stage. For tickets to the free concert, which takes place next month, check out the Samsug Summer Krush website. The hip-hop mogul will perform his biggest hits as well as new songs from his upcoming "Blueprint 3" album.
The next stop for the tour is out west in sunny Los Angeles. There's still no word on who the act will be for the big finale stop of the free Summer Krush music series, but you can be sure when the news breaks, I'll get it to you here first on the Marquee Blog!