Here's what's happening in the world of entertainment today:
Before going with Tom DeLay, "Dancing with the Stars" producers wanted Bill Clinton to be a contender for the upcoming season, according to The New York Times. Executive producer Conrad Green tells the paper that a call was made to Clinton's office and, "I think the phone was quickly thrown down."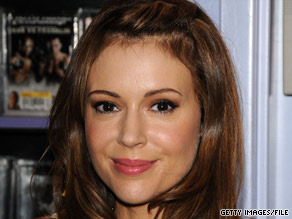 Meanwhile, The Washington Post reports that "Dancing" fan DeLay sent a letter to the show endorsing Sara Evans as a contestant over Jerry Springer in 2006.
Alyssa Milano was married over the weekend to Hollywood agent David Bugliari, according to People.
SPOILER ALERT for "Big Brother" fans: EW.com confirms that contestant Chima Simone has been removed from the house. In a statement, CBS says, "Chima has been evicted by the producers from the Big Brother house for violating the rules. She will not be part of the show's jury. Her eviction will be addressed on an upcoming broadcast of the show."
The wait is over: EW.com has the new trailer for the "Twilight" sequel "New Moon."
Julianne Moore, Billy Crudup and Zach Galifianakis are among the celebrities playing G.I. Joe characters in a Funny or Die music video parody.
On DVD today: "Hannah Montana: The Movie," "The Last House on the Left" and a plethora of TV series seasons: "The Simpsons: The Twelfth Season," "Dexter: The Third Season," "Gossip Girl: The Complete Second Season," "Everybody Hates Chris: The Final Season" and "Eli Stone: The Complete Second Season," among others.