"Grey's Anatomy" star Eric Dane is showing quite a bit of his own anatomy in a videotaped naked romp that is making the rounds on the internet. In light of this latest Hollywood scandal, I have decided to offer some guidance to those up and comers in the entertainment industry- some words to the wise from someone on the other side of the biz. I have seen these things play out time and time again and I suggest all new celebrities take this pledge before ascending to stardom.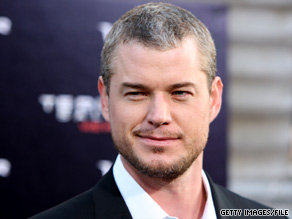 So put your left hand on a stack of tabloid magazines, raise your right hand and repeat after me:
Thou shalt not talk about your romantic relationship. It will come back to haunt you. When you give a gushing interview to Barbara Walters or Oprah about how in love you are with your significant other or jump a couch declaring your love, those WILL be the clips that will be played endlessly when you split up.  Be blissfully in love, have a fairy tale Hollywood romance.  But do it quietly.
Thou shalt not make a sex tape, take nude shots, etc. Inevitably it will hit the internet. If there is anything that you have done in your pre-celebrity life, obviously you can't change it, but going forward, you need to be smart. There are no two ways about this one- if you do it, it will leak.
Thou shalt not drink and drive. You earn enough money now- hire a driver. When you go out to dinner, go partying at clubs or go to premiere after parties and plan on drinking, take a car home.  We know you have expensive cars at home; you don't need to show them to us by crashing them.  We would respect you much more if you got into a chauffeured car and got home responsibly.
I now pronounce you a certified Hollywood star. If you can follow these commandments you will have a long, happy life in Hollywood. Don't let me down!
For much more on Eric Dane and Rebecca Gayheart's steamy naked romp tune in to Showbiz Tonight, 11pm ET/PT- Don't miss it!