Last week's episode left many pondering the lasting power our beloved "Entourage" still has. Some wondered if the show had actually lost its mojo, and if it seemed to be getting stale.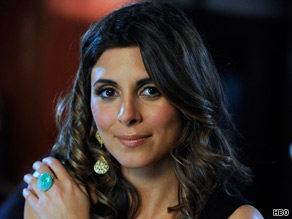 As I read through last week's comments, I found that to be the most common message, and I was on the fence. I still think it's a great show with great characters and compelling story lines, but I do think there are some moments that are just not that impressive this season.
This week's episode began with Johnny Drama and Jamie-Lynn Sigler on set in a rainy scene that climaxed with a passionate kiss. Meanwhile, Turtle's gawk is just a few feet away. Yet, even as this sticky situation unfolded, I was indifferent.
As for the "mojo-meter"? Maybe a 1.5 so far. (By the way, this is NOT pronounced "mojo-meter," but rather like "Mo-Jommeter," as to sound authentically scientific.)
Next, the dialogue shifted to Eric's aftermath. Who can forget his tragic faux pas calling Ashley "Sloan" last week? He confesses to the crew, and they dutifully give him the business. However, I am still not impressed. Checking the "mojo-meter" again, it's pegging at a paltry 2.2.
A few minutes forward, and Ashley's hard stance on the "you called me 'Sloan' " tragedy continues. She was actually a likable, tough-as-nails girlfriend with a justified, bitter edge. In another patented "like/hate" Ashley moment, I actually began to empathize. This girl's all right. Then, in the blink of an eye, her concrete stance on the issue inexplicably crumbles in record time and things are back to normal? Not only am I NOT moved, I'm downright perplexed. The "mojo-meter" is dying on this episode fast. It's a flatline. I've got nothing.
Is "Entourage" actually becoming (gulp) lame?
Then, something magical happened. As if someone had wheeled in the "mojo defibrillator," the scene shifted to the Miller-Gold agency, and Marlo Klein's voice instantly pierced the place like nails on a chalkboard. Mrs. Klein darts in with a crazed look in her eye, hurling expletives left, right, north and south. Jami Gertz seemed to be cast exactly for this moment, making it seem all too real with her brilliant, maddening shrillness echoing through the offices. Her chaotic trail culminates in Ari's office with him getting an earful for his part in the proverbial crime.
At that point, I spoke aloud to nobody in particular (don't judge): "Now THIS is the episode we've been waiting for!"
From that moment on, the episode was dotted with a few highs like Drama's snooping on Jamie-Lynn's lunch with his boss. Hopefully, this new character's introduction will bear fruit in future episodes. I also hope everyone caught Drama's priceless "pseudo-Unabomber" look as he tailed Turtle's girl with the savvy network exec who has a reputation for closing "other" sorts of deals with actresses. If not, rewind the TiVo. That laugh is on me.
By the end of the show, a nice amount of momentum was in place for next week - and the mojo-meter was jumping again. As for me, I'm officially paying attention.
Loved, liked or hated this week's show? Let us know!