On Thursday, the drummer from the rock band Lit lost his valiant battle with brain cancer.  Allen Shellenberger was 39.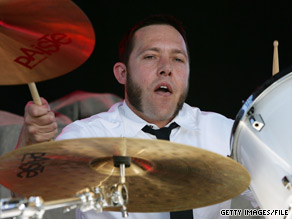 In May 2008, Shellenberger was diagnosed with a Stage 4 malignant brain tumor.  It was inoperable, but he immediately underwent chemotherapy and radiation treatments, as well as experimental therapy at Cedars-Sinai.
He was often driven from Orange County to his doctor's appointments in L.A. by Kevin Baldes, Lit's bass guitarist and acting nurse - who would dole out medication Allen's mother had arranged in tiny Ziploc baggies with Post-Its on them.  Allen never wanted to know how bad his prognosis was, and his bandmates never discussed it with him.
Allen played his last gig with Lit when they shared a bill with Sugar Ray and Everclear last fall.  He played the entire set, even though No Doubt's Adrian Young was backstage and ready to step in should his friend falter.
Allen was kind enough to let CNN accompany him on a doctor's visit last year.  He had lost weight, and his face was puffy from the steroids.  The rest of Lit was there: Kevin, as well as brothers Jeremy and A. Jay Popoff.  But in reality, all four thought of themselves as brothers, and at the end of our interview, Allen removed his shirt to reveal a new tattoo on his back - a sacred heart with a banner that read, "Family and Friends."  Those family members and friends were with him Thursday when he took his last breath.
Mark McGrath from Sugar Ray gave us this statement:
"Allen was a great drummer, but more importantly a great human being.  His courage and positive outlook during his battle with cancer was an inspiration to us all.  He will be missed dearly by a music community he helped enrich, and my thoughts and prayers go out to his family and my friends in LIT."
Adrian Young of No Doubt had this to say:
"We're deeply saddened by Allen's passing.  It's a difficult moment but we take comfort in remembering how much he loved being in Lit, loved being a drummer and that he saw his rock'n'roll dreams come true.  Our thoughts are with his family, bandmates and loved ones."