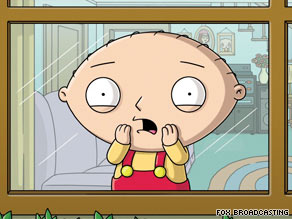 "Family Guy" creator Seth MacFarlane says that the character of Stewie is gay, according to The Los Angeles Times.
"We had an episode that went all the way to the script phase in which Stewie does come out," MacFarlane told Playboy in an interview. "But we decided it's better to keep it vague, which makes more sense because he's a 1-year-old."
MacFarlane also revealed that radio talk show host Rush Limbaugh and former Bush administration strategist Karl Rove are set to play themselves on a future episode of the show, according to The Hollywood Reporter. Limbaugh previously made a cameo on the show in 2007.
It's full speed ahead for a sequel to this summer's "Wolverine."
Variety reports that Christopher McQuarrie, who worked on the first "X-Men" movie uncredited, has been tapped to write the film's script.
Meanwhile, Bryan Singer, the director of the first two "X-Men" will take on a feature film version of "Battlestar Galactica," according to Variety.
The heirs of Superman co-creator Jerry Siegel won a round in court against DC Comics and Warner Bros., according to The Hollywood Reporter. A judge ruled on Wednesday that they had recaptured rights to key portions of the character's origin story, including the first two weeks of the classic Superman comic strip.
At the box office this weekend: "District 9," "The Time Traveler's Wife," "The Goods: Live Hard, Sell Hard," "Bandslam" and "Ponyo."