Samuel L. Jackson had a problem on the red carpet Thursday at a cancer fundraiser in Beverly Hills. No, not with any members of the press. Instead, the "Snakes on a Plane" star was a little perturbed with what we'll call his red carpet handler.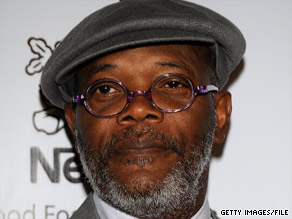 First, a little background for those unfamiliar with arrival line etiquette. Often times at red carpet events, stars are accompanied by someone with public relations credentials who escorts them down the line from interview to interview. For members of the press, these PR humming birds are, at times, a nuisance.
They often ask us to "limit the interviews to two questions, please" or whisk their talent away saying, "gotta go, sorry guys." Some less-experienced handlers can be found standing right in front of their assigned mega-stars when our photographers are trying to shoot some much-needed and ever-so-valuable video. There are events when a star will have their personal publicist with them – and this publicist more often than not has a close relationship with their client.
At this event, however, Mr. Jackson's personal publicist was nowhere to be seen on the carpet, and it was more like seeing Mr. Jackson with Patrick Wilson in "Lakeview Terrace" instead of John Travolta in "Pulp Fiction."
After the first interview, the handler in question apparently got a little too close for comfort to Samuel L... causing the actor to channel the on-screen persona that's made him the subject of hundreds of homemade YouTube videos.
"You're about to make me say M***** F*****," Jackson said to the humbled handler. "I mean for real."
It's important to note here that Mr. Jackson wasn't screaming at the top of his lungs, like in the famous courtroom scene in "A Time To Kill" or the fast food stick-up scenario in "Coming to America." He even had a sly grin on his face... but with that commanding voice, there was no mistaking his meaning. During Jackson's interview with CNN, the handler kept his distance.
About five or six interviews later, that thundering voice returned. "MAN, WHO ARE YOU?!?!?"
Any movie fan can recognize that voice and its meaning.
But you have to tip your hat to the handler in question... the guy kept his cool and managed to save some face despite laughter from members of the press.
Whether or not Jackson was completely serious during this handler heckling remains to be seen... but anyone who's seen "Snakes on a Plane" should know when "ENOUGH IS ENOUGH!!"