A few weeks ago, I was out shopping and came across an awesome graphic shirt with the words "Woodstock 69."  I headed toward the register when it dawned on me … do I even know what Woodstock is? Would I become a poser?  I'm 23. The only thing Woodstock and I have in common is that we were both born in August –my birth taking place almost two decades later. So, the shirt went back to its rack and I went home empty handed.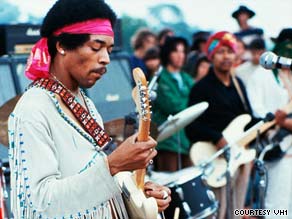 The summer of 1969 held many historical events, like the moon landing, the Manson murders, and of course… Woodstock. The moon landing was taught in history class and the Manson murders have often been in the headlines, but Woodstock was left out.  I had a vague idea of what it was – some type of music festival, like Coachella – but it was never intriguing enough for me to Google.
With the festival's 40th anniversary at hand, I thought what better time than now to really find out about Woodstock and if it is still relevant to us. I went out to ask fellow members of the "millennial" generation, how much they knew about Woodstock. Most of the responses I got were not surprising to me at all. "Um, I've never heard of that actually. Oh, I remember! It was like, wasn't it really old and like there was a bunch of hippies." One person actually started talking about accounting and stocks when I asked them if they knew about Woodstock.
While some might cringe and wonder if this is our future, I can relate to my "young" generation.  It's not because we're too involved with "who's wearing what and who's dating who." It's because some historical events are just that to most of us - history. We know it definitely changed a part of culture, but it's also something of the past.
Knowing the facts would not be enough. One would need to know about the emotions which filled that year, and led up to that great music festival. Those that lived through the music extravaganza understood the significance of everyone getting together; the peace, love and value of unity that came at the end of turmoil and excitement of that year.
In 1969, many of the issues that generation fought for are no longer issues to us. In 1920, a woman voted for the first time in history, but today when we decide to or not decide to cast that ballot we don't think about what our fellow women had to go through in order to fight for their rights.  While we celebrate our first African American president in 2009, forty years from now, young people might not know the significance it had on us.
Michael Jackson is an icon of our time and was considered the King of Pop. His sudden passing shocked the world. Though millions of fans watched his memorial service, it will be a moment remembered in history, but not taught in history class. Perhaps forty years from now, our children's children will wonder what the big deal was about – maybe we'll even hear "Michael Jackson… was he, like, a singer?"
After "getting to know Woodstock," I've come to the conclusion that you just had to be there … be there in that moment of time. I might read the books and watch the movies, but I will never truly know what Woodstock is. I've realized, though, that it's okay, because my generation too can say we've lived through historical events that some might not understand in the near future.
As for that shirt, I don't think I'll go back to get it, but next time I see a shirt with "Woodstock '69" on it, I definitely won't feel like a poser.