Dear Aerosmith,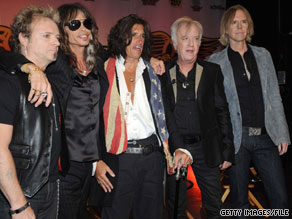 Hi, guys! I guess I should say, "How are you all feeling?"  When I got the press release announcing the cancellation of the remainder of your summer tour, I breathed a sigh of relief.  This trek has been jinxed.  Steven, I'm sure you're nodding in agreement - if you can, with 20 stitches in your head and a broken shoulder from a fall off the stage last week.  Ow (I've seen the video on YouTube).
Even before you hit the road, Brad bonked his head - reportedly getting out of his Ferrari - and was forced to miss the first seven shows.  Then Tom left the tour due to what's only been described as "non-invasive surgery."  And Steven, just before your latest mishap, Aerosmith had to postpone some concerts because of your torn quad muscle.
Of the 15 shows the band managed to eke out, none were with the full line-up. Now I don't want to blame anything on age, because 60 is the new 40 (or something like that). But take the rest of the summer off - go to Martha's Vineyard or whatever it is you guys do in Boston.  You'll be "Back in the Saddle" in no time.  And feel better, please.  I'm running out of get well cards.
Love, Denise