"Five Minutes of Heaven" isn't a big budget film, but one of its stars came out to support it last night in New York.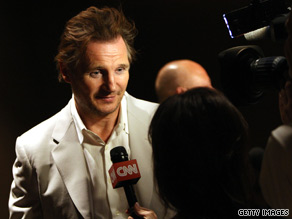 Tall and stoic Liam Neeson stood before a somewhat disheveled group of photographers as they did their job snapping away flash after flash. Along with the stills, a small press presence of television crews gathered outside the screening room of the Tribeca Grand Hotel.
We were waiting for the chance to speak with Mr. Neeson on his first outing since the tragic loss of his wife Natasha Richardson in March. Well before his arrival journalists were advised not to ask any personal questions of the actor. The publicist escorting Mr. Neeson down the press line never left his side during interviews.
As Neeson stepped up to speak with me I extended my hand. "Hello darlin,'" he said softly in his Irish accent. You could see in his light eyes that something had dimmed; maybe the great loss he has suffered is simply explained on his face. No need for a journalist to probe further.
The mood at this event was unlike any premiere I've covered in the past. Most film premieres replete with sprawling red carpets are spectacles. Photographers shouting, salivating to capture one more pose, journalists angling for a few more seconds with the actors, and publicists at the ready waiting to pull their charges off the line and into the safety of the theater away from the hungry press.
Respectful is an adjective I would never have chosen to describe a film premiere. But last night it was just that.