When did kids stop being kids? And when in the world did parents stop being parents? Parenting is not about being your kid's best friend. It's about teaching them what is appropriate and what is not.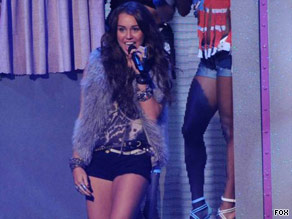 In fact, I remember one particularly embarrassing time that my mom insisted on "doing the right thing" and you know what? Looking back, she was right.  It was my school Halloween party and all of my friends decided our theme was Disney characters. I decided to go with Jasmine from "Aladdin," and my costume was pink, my favorite color.
Now if you have ever seen the movie you know that Jasmine has a bare midriff , but see, I was in 9th grade and all of about 15 years old at the time and there was no way on God's green earth that my mother was letting me out of the house with my midriff showing.  She took me to the local dance store, bought a skin colored leotard and made me wear it under the costume.  I am pretty sure I wasn't thrilled with her that night, and I was ridiculously hot in the school cafeteria, but you know what? I was 15 years old –- a child.  She was right: it would have been inappropriate to wear the costume as is.
All of that drama -– and trust me, at the time it was major drama - over a bare midriff.  It makes me wonder, what in the world Miley Cyrus's mother was thinking letting her daughter get on stage at the Teen Choice Awards in booty shorts and high-heeled boots and dance around a pole? I guess I shouldn't be too surprised; this is, after all, the girl who last year posed on the cover of Vanity Fair in nothing more than a sheet.  But my point in sharing the above story is this: a parent's job is to teach.
When you are 14 to 17, you are too young to know what the right thing is to do in certain situations.  That is why your parents are there to guide you.  You may not like what they have to say – and parents, you may not like saying it, but it needs to be done.  Miley is still a CHILD.  A 16 year old girl should not be writhing around on a stage in booty shorts on a pole in front of other teens at an award show.
What kind of an example does it set for other kids?  And by her parents condoning it, what kind of example are they setting for other parents?
For a fired up debate on Miley Cyrus's controversial pole dancing performance, tune into Showbiz Tonight at 11pm ET/PT on HLN tonight.