While interviewing Brad Pitt at the Los Angeles premiere of "Inglorious Basterds" tonight, I made a discovery.  Brad Pitt has a secret.  What's worse is Brad Pitt has a secret and he won't tell me.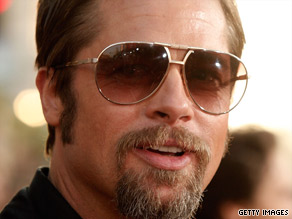 Our interview began with a bit of chatter about his latest film - a dark comedy set in World War II about a fictional undercover American military unit responsible for killing Nazis.  The movie stars Pitt as the head of this special unit.  I asked Pitt how he was able to make a movie about killing Nazis so funny.  He agreed the concept is outrageous, and proceeded to give the credit for the film's humor to its director and writer, Quentin Tarantino.
I then moved onto another topic – gay marriage - and this is where the big secret comes into play.  I mentioned an article in Parade Magazine in which the actor says he and his life partner, Angelina Jolie, may get married when it's legal for everyone else.  He explained that he doesn't feel that anyone has a right to tell someone else what they can or can't do with their their life.  He mentioned that, at first, he made the comment as a one-off, but then after receiving an incredible amount of positive and negative response that there was more to this issue.  It was at this point in our discussion that I learned Brad Pitt has a secret.
JD Cargill: "Yeah, good for you.  You're the kind of guy that keeps supporting what he actually believes in."

Brad Pitt: "You know what?  Ahh, I'm not – no, I'm not going there, that was too much.  No, no, no... only Barbara Walters could get that out of me."

JD Cargill: "What?? Ohhh!"

Brad Pitt: "Listen, Cargill, you got a few more years on the trail."

JD Cargill: "I will say this, I have nothing on Barbara Walters.  She is way up here.  But, if you were, to, you know, share something with me…"

Brad Pitt:  "Ah ha ha ha, spill the beans!"

JD Cargill: "It could make the difference in a young journalist's career!"

Brad Pitt: "Yeah, yeah, yeah.  We're doing well.  We're doing well."

JD Cargill: "Oh!  Was this Angie marriage news?"

Brad Pitt: "No, no no. You and I!"

JD Cargill: "Oh, okay!  We're not doing that well!  Ha ha!  But, thank you very much!  All right, you're awesome man, thank you!"
And just like that, Brad Pitt was off to his next interview, leaving me wondering: what's the big secret??  What does Barbara Walters get to hear about that I don't?  Does it have to do with gay marriage?  Does it have to do with Angie and the kids?  Is he having a surprise barbeque next weekend?  What could it be?!!  I guess I'll have to wait and see.  In the meantime, I'm calling Barbara Walters!