This week's episode dives in right where Eric's love life continues its awkward, inconvenient path. His relationship with Ashley seems to be warming, while the glacier that was this "thing" with Sloan continues to melt. More on that a bit later.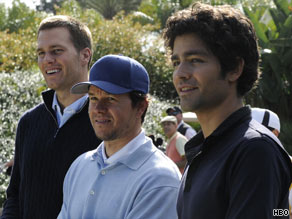 The show clocked in at a svelte 23 minutes, but despite it being a bit leaner than the others this season, there were some pretty laughable lines.
Last week, one of our readers wished for more of Vince's publicist Shauna in future episodes, and I concur. You can always count on Shauna to open up a fresh can of "sassy" on any and all who cross her, and her quips are instant classics. However, if we're making wish lists, please for the love of Peter, Paul and Mary... May I please have more Jeffrey Tambor?
Straight from his announcement of "Who are you to judge me, agent-scum?" I was totally checked into Tambor's part in the show. When you throw in the Tambor family's proficient use of the F-word in perfect rhythm, the pairing with Ari for the celebrity golf event was chock full of funny.
I don't recall many of Ari's clients having him in such an uncomfortable grip such as Tambor's, but then again, as the situation with Mrs. Ari loomed, we witnessed him suffering plenty. Of course, that ends with taking it out on our beloved Lloyd. Stay strong brother.
Meanwhile, New York Giants' fans would have shed a tear for the way Turtle "kept it real" with Tom Brady. That is, of course, until the Patriots' quarterback mentioned "his affinity for Jamie-Lynn Sigler", "you guys should come over sometime" and "Gisele's cooking" in rapid succession. From then on, Turtle's small case of "guy love" for Brady blossomed quickly into a full-on "man crush". Funny, but sad and unsettling.
This was by no means my favorite episode of the season, but it had its moments. Speaking of which, E's awkward love life only gets more off-balance as he commits the most heinous of relationship felonies: the dreaded "wrong name call". It was excruciating to watch as the episode ended with E's casually disastrous "sorry Sloan" as Ashley makes her way past him to pour more wine. I actually turned away from the TV as the ending credits rolled.
Loved, liked or hated this week's show? Let us know!