Can you hear the music? That synthesized rumbling, haunting contestants as they come up with their "final answer"?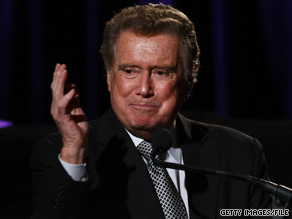 You'll be hearing a lot of it very soon. "Who Wants to Be a Millionaire" returns for a two-week, 11-episode run Sunday night on ABC, with Regis Philbin once again occupying the chair he held for the show's original prime-time run 10 years ago. (Meredith Vieira has been in charge for the show's syndicated version.)
When "Millionaire" appeared on ABC as a summer replacement in 1999, it was a phenomenon. The network – and many observers – were caught flat-footed by the show's skyrocketing popularity, which earned it a spot on the network's fall schedule. In the 1999-2000 season, the three editions of the show ABC aired were Nos. 1, 2 and 3 in the ratings, and it was almost as popular in 2000-01. (Full disclosure: I was one of those who flamed out during an appearance on the show. )
But overexposure – ABC ran the show up to four times a week – eventually doomed "Millionaire," and by 2002 it was off the prime-time schedule.
Enter "Slumdog Millionaire," the Oscar-winning movie that also caught many observers flat-footed with its sudden rise to prominence earlier this year.
With the film filling theaters all over the world, ABC decided to give "Millionaire" another chance. Philbin and producer Michael Davies couldn't be happier: "Regis and I have really just [been] tickled pink the last few days, the atmosphere in the studio and the atmosphere with our contestants and our celebrity guests and our experts," Davies told Jim Halterman of The Futon Critic. "It's been very magical and we'll see what happens."
There have been some changes to the prime-time edition, matching those of the syndicated show. There's now a time limit for answers, and among the people contestants can use as resources are experts. (Among them: CNN's Candy Crowley and Wolf Blitzer, not to mention "Jeopardy!" king Ken Jennings.) But the biggest change could come with the ratings. With network viewership down, and reality shows having become TV's go-to genre, can a quiz show still grab a big audience?
For that, there won't be any final answers … for a few days, at least.
How about you? Are you going to watch "Millionaire's" return?