I am really wondering if there is going to be a major blowup this season on every episode of "The Real Housewives of Atlanta."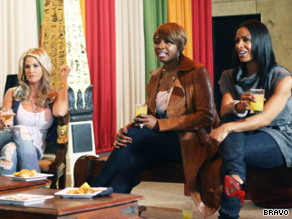 We can only hope.
Thursday night's episode could have almost been titled "Sheree gets into it part II."
After the huge blowup with party planner Anthony on the season premiere, this time around she faced off with Kim after NeNe arranged a night out for the three of them to clear the air.
There has been a lot of "she said, she said" going on in the ATL, and kudos to NeNe for wanting to put all of the cards on the table after she and Kim had earlier met and made peace.
It all started out reasonably, but you knew it was about to go bad when NeNe choked on her wine after Sheree said Kim had talked badly about NeNe's husband Greg and called him broke.
Soon accusations of lies were flying back and forth between Kim and Sheree, and there was lots of cussing and fussing as Sheree denied that she ever told Kim that NeNe and her family were renting a house (which is apparently a huge diss in a city as house-proud as Atlanta).
NeNe clearly didn't know who to believe, and the fight escalated enough for Sheree to follow Kim outside in some drama to be continued on episode three. I wonder how all this factors in to reports that Kim and NeNe recently got into a confrontation in which Kim alleges that NeNe tried to choke her.
So who do you believe told the truth at the dinner? Should the three women just give up on the friendship or at least try and be frenemies?
For more on this season of "The Real Housewives of Atlanta," visit Essence.com.