After last night's final performance show, it was clear that Jeanine had done one of the most brilliant solos ever seen in the history of "So You Think You Can Dance," and a final solo, to boot. What wasn't as clear, at least to this blogger, was whether her extraordinary performance in the final week, including a smoldering paso doble with Brandon, would be enough to place her in the winner's circle.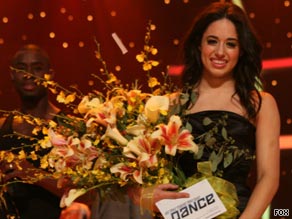 Then, after reading your comments Thursday morning, many of which were from fans of Jeanine, it looked like she might just pull this one out after all. The way that the audience at the finale erupted at the mention of her name early on was another clue.
Week after week, Evan escaped the bottom two and even Wednesday night, the audience chanted his name, so there was no doubt that he was formidable competition. At he same time, the judges praised Kayla's skill time and time again, and Brandon wowed us on so many occasions this season, that it wasn't always easy to see the Jeanine train coming.
But when host Cat Deeley announced that Evan came in third place, it seemed like the voters had taken what host and executive producer Nigel Lythgoe said to heart, and Brandon and Jeanine were destined to go to the end together. Looking back on some of the judges' favorite routines as presented in the finale, we saw the two evenly matched, including judge Mary Murphy wanting to see the pair's paso doble one more time. It could very well have been to that solo, and possibly even memories of that Travis Wall choreographed routine with Jason (and the "unchoreographed smooch") to make the difference.
Of course, let's not underestimate the power of a strong personality. We were reminded more than once that Brandon wasn't showing enough confidence for the judges' taste (which might have had a little something to do with a certain Emmy-winning choreographer with the initials M.M.), whereas Jeanine had charisma to spare (see her "Thanks to the Academy" comment at the end of the show).
In this humble blogger's opinion, both Brandon and Jeanine were more than deserving of the title, and it was inspiring to see such drive and creativity in the final stretch rewarded by so many of the record 21.6 million votes.
Some final notes on the finale itself:
– It was terrific to see Brandon and Janette (this year's Katee and Joshua) back together. But where was their Wade Robson jazz routine? No extra staircases in the Kodak Theatre?
– After swearing off the idea of judges dancing on the show ever again after last season's finale, Lythgoe and company had one more trick up their sleeve with a surprise entrance at the end of the final group Broadway routine. From what little we saw of them actually dancing, Tyce Diorio seemed the most into it, but then again, that's his style.
– On second look, that group routine choreographed by Dmitry Chaplin, and Tabitha and Napoleon D'Umo might just be one of the best things I've ever seen on the show.
And now for your thoughts: Does "America's Favorite Dancer" Jeanine deserve the title? Do you agree with Lythgoe's comment (made just prior to the finale) that the best dancer every season has never won the show?